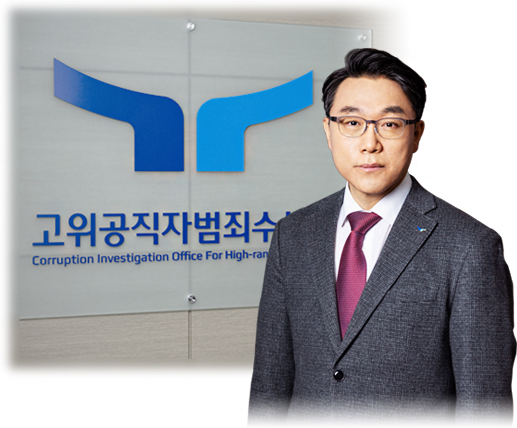 Greetings!
I am the first Chief Prosecutor Kim Jin-wook of the Corruption Investigation Office for High-ranking Officials(CIO).
Thank you for visiting the website of the CIO.
The CIO is an independent investigative body responsible for investigating crimes committed by high-ranking officials or their family members in relation to their duties. The purpose of the Office is to eradicate crimes by high-ranking officials and enhance transparency in the government and trust in public offices.
The establishment of the CIO is a major change in the constitutional history of Korea as it transformed the criminal justice system of Korea. Prior to its establishment, the Prosecution had monopolized the authority to indict since the foundation of the nation.
As the first Chief Prosecutor of the CIO, I will do my utmost efforts in gaining the trust of the Korean public and for successful establishment of the CIO in the constitutional order of Korea.
Thank you.
The First Chief Prosecutor of the Corruption Investigation Office for High-ranking Officials

Education
Posung High School
Bachelor of Arts in Archeology and Art History, College of Humanities at Seoul National University
Master's Degree in Law, Seoul National University
Master's Degree in Korean-English Interpretation and Translation, Graduate School of Interpretation and Translation (Conferred)
Ph.D. in Law, Seoul National University (Conferred)
Main Professional Activities
List of major academic backgrounds - consisting of 1989, Passed the 31st judicial examination

| 1989 | Passed the 31st judicial examination |
| --- | --- |
| May 1992 ~ Feb. 1995 | Judge Advocate of the Air Force |
| March 1995 ~ Feb. 1997 | Judge of the Seoul Northern District Court |
| Feb. 1997 ~ Feb. 1998 | Judge of the Seoul District Court |
| March 1998 ~ Jan. 2010 | Attorney at Kim & Chang |
| March 1998 ~ Sep. 1998 | Assistant Secretary General of the Korean Bar Association |
| Oct. 1999 ~ Dec. 1999 | Special Investigator of the Government's Involvement in a Strike by the Labor Union of the Korea Minting and Security Printing Corporation |
| May 2005 ~ Jan. 2007 | Director of Public Relations of the Seoul Bar Association |
| Sep. 2009 ~ Jan. 2011 | Member of the Human Rights Committee of the Seoul Bar Association |
| Dec. 2009 ~ Dec. 2010 | Member of the Subcommittee for Human Rights of North Korean Refugees of the Seoul Bar Association |
| Feb. 2010 ~ Sep. 2017 | Rapporteur Judge of the Constitutional Court |
| Feb. 2012 ~ Jan. 2013 | Chief Aide to the President of the Constitutional Court |
| Feb. 2016 ~ Feb. 2018 | Head of the Basic Rights Research Team of the Constitutional Research Institute of the Constitutional Court |
| Sep. 2017 ~ Jan. 2021 | Senior Constitutional Researcher of the Constitutional Court |
| Feb. 2020 ~ Jan. 2021 | International Director of the Constitutional Court |